2022 Product Updates - Edition 2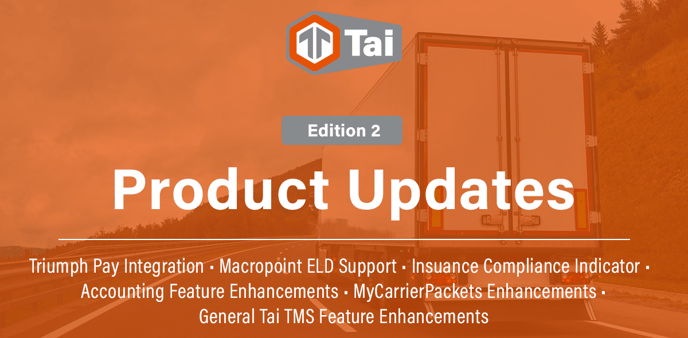 Check out some of our latest product feature updates that help TMS Freight Brokers improve efficiency.
Triumph Pay Integration
Triumph Pay provides an efficient solution for streamlining back-office carrier payment operations. The integration with TMS seemlessly works with the Approve Bills process within TMS.
Macropoint ELD Support
Unlock new efficiencies, raise your revenues and deliver the exceptional service your customers want with Descartes MacroPoint. ELD is now supported with the Macropoint Load Tracking software. Check out the article and contact support for assistance with the configuration.
Insurance Compliance Indicator
Carrier insurance expiring within 30 days will turn yellow in the AISP compliance monitor. The yellow indicator warns the user that insurance is shortly due to expire, so operators can take action before booking with the carrier.
RMIS Carrier Onboarding - Operating States Support
We've added support via RMIS's expanded carrier API to include syncing operating states for carriers. This will add the carriers supported states to the LSP Carrier Profile.
Accounting Feature Enhancements
Collections Summary - Dynamic Page Refresh

When using the page to send a customer statement, the collection summary page will dynamically refresh to keep the last contact column updated. This makes it so the user doesn't have to refresh each time.

Pay Bills - Display Credits Checkbox

Credits can now be displayed or hidden on demand

Approve Commissions

The approve commissions section has been updated to provide a more consistent workflow similar to the Approve Bills workflow.

Approve Bills - Auto Assign Shipment ID to Bill Number

For Truckload shipments, if a PRO Number doesn't exist, the TMS will auto assign the Shipment ID to the Bill Number field to expedite data entry.

Approve Bills - Bulk Upload Workflow

The Approve Bills page now has a feature to bulk import vendor bill approvals. The template has 3 columns: Shipment ID, Bill Number, and Amount. The import will follow the same process the TMS uses for EDI 210s.

Variance Page - Due Date - Make Accurate Per Billing Terms
AR Receive Payments - Select All functionality added
MyCarrierPackets Enhancements
We've added support to the MyCarrierPackets integration which now allows us to capture the tax ID information and save it to the LSP Carrier Profile
Additionally, we now have an overwrite on/off setting. This feature allows you to control whether you want MyCarrierPackets data to overide data that the user may have manually entered.
General Tai TMS Feature Enhancements
Public API - Full Accounting Syncing Features
Carrier Portal - Check Call - Simplified User Experience

The Check Call page has added features that will make it easier for the driver to update important shipment details as they occur during the shipment's lifecycle.

Shipment Import - Support for Drayage shipments
Export to Excel - Toggle via Staff Setting

When active, this removes the export to excel option for all pages where the export is supported.

DAT Rateview - Updated TMS Equipment Type Mappings
Shipment Detail - Add Tariff Functionality

Adds support to add a tariff to a shipment manually.

Carrier Selection Typeahead - Enhanced View
Loadboard Postings - Automatic takedown of active load board postings when a carrier is added from the Shipment Detail page. Previously, this only worked if the carrier was added from the Truckload Quoting page.
Truckload Search Page - Enhanced Ship Date / Delivery Date Logic

Adds logic for appointment dates respective to ship and delivery date fields.
If an appointment date exists for either, it will supersede the existing date/time for the shipment date or delivery date.

Truckload Search Page - Enhanced Workflow for Bulk TXT Carrier Check Call

Cleans up the workflow and updates the process for identifying shipments missing a driver's cell number.