This article will show you the service levels we have available on the TMS and where you can select them.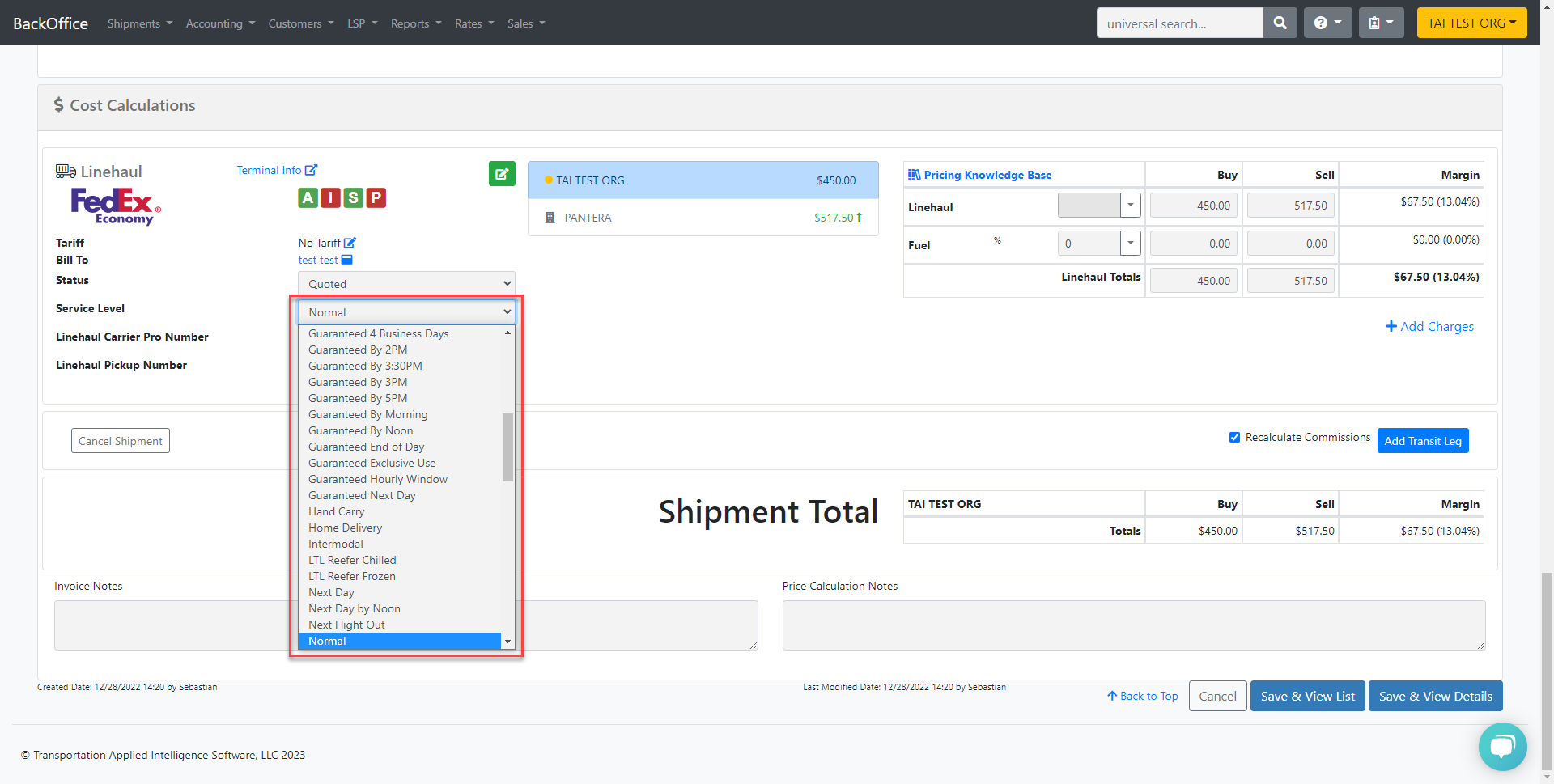 Service Levels are additional services carriers offer that may have an extra cost. Here is a list of the ones found in the TMS:
1Day Freight
2Day Freight
2nd Day
3 to 5 Day Deferred
3Day Freight
Accelerated
Air Express
Auto
Charter
Courier
Cross Dock
Deferred
Drayage
Economy
Exclusive Use
Express Saver
First Freight
First Overnight
Friday Only Pickup
General
Ground
Guaranteed
Guaranteed 4 Business Days
Guaranteed By 2 PM
Guaranteed By 3:30 PM
Guaranteed By 3 PM
Guaranteed By 5 PM
Guaranteed By Morning
Guaranteed By Noon
Guaranteed End of Day
Guaranteed Exclusive Use
Guaranteed Hourly Window
Guaranteed Next Day
Hand Carry
Home Delivery
Intermodal
LTL Reefer Chilled
LTL Reefer Frozen
Next Day
Next Day by Noon
Next Flight Out
Normal
Oversize - Permits
Parcel
Partial
Premium
Priority
Priority Noon
Priority Overnight
Puerto Rico Priority
Puerto Rico Standard
Rail
Same Day
Smart Post
Standard
Standard Overnight
Standard Truckload
TCSA
TCSP
TCSW
Team Service
Time-Critical
Trade show Only
Transit 2nd Day
Transit: 3 to 5 Days
Transit: Deferred
Transit Next Day
TST Guaranteed
Two Day
Two Day AM
Urgent Care Arrival Day Guaranteed
Volume
Volume: Exclusive Use
Volume: Guaranteed Economy
Volume: Guaranteed Exclusive Use
Volume: Guaranteed Standard
Volume: Truckload Exempt
Volume: Truckload Service
Write Glove
White Glove Assembly
White Glove Delivery
White Glove Outside
White Glove Pickup
White Glove Room of Choice
White Glove Threshold
White Glove Threshold 2nd Floor
White Glove Unattended


You can include the service level you choose for your shipment in the BOL so the carrier knows about the extra service you need.