2022 Product Updates - Edition 1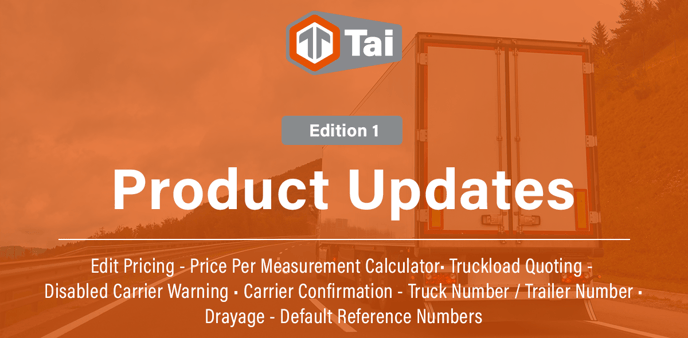 Price Per Measurement Calculator
The Edit Pricing section can calculate the buy rate or display the cost based on the selected measurement type. Measurements supported:
LB
CWT
Ton
Pieces
Mileage
Calculate pricing based on selected measurement.
Truckload Quoting
Disabled Carrier Warning
A carrier's status within your network can change at any time. If a carrier becomes inactivated and a user attempts to add them, a warning will appear, and the Select for Shipment will be disabled. This will prevent inadvertently booking a carrier with a disabled status.
Carrier Confirmation
Truck Number / Trailer Number
Instead of a driver calling in to provide a truck number or trailer number, they can add it directly on the Carrier Confirmation acceptance page.
Automates the process
Expedites carrier acceptance
Take advantage of tracking options with ELD
Drayage Shipments
Default Reference Numbers
For the Drayage shipment type, we've added default reference numbers that will allow the user to quickly add commonly used data fields.
These include:
Seal Number
Trailer Number
Steamship Line
Container Size
Container Number
Vessel/Voyage