Marketplace Enhancements
Marketplace Accounting Features
Buyer Accounting Profiles can be viewed in the Seller's dashboard by clicking on the wallet icon

The following items can be set:

Credit Limit
Credit Status
Invoice Due Date (Terms)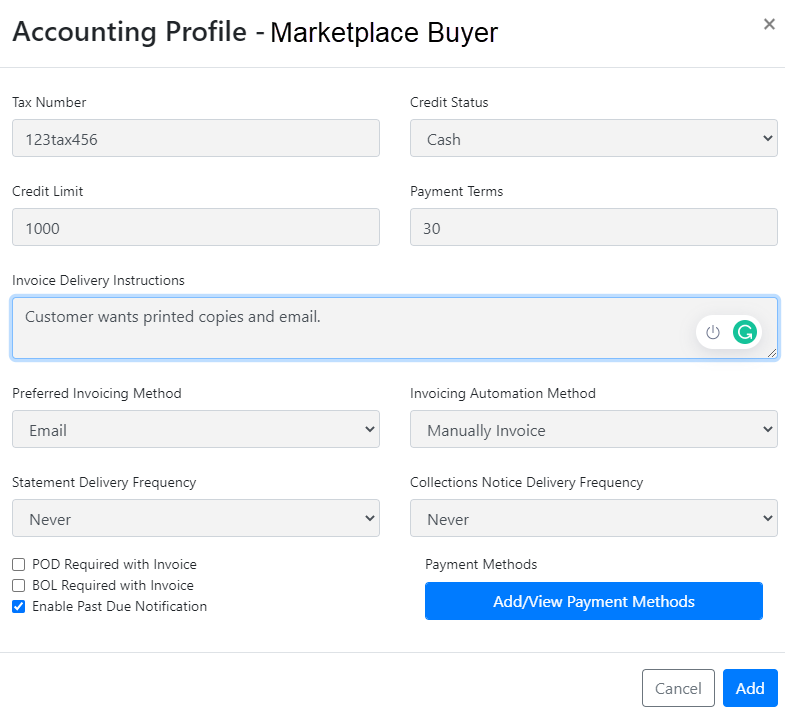 Buyer Statements are visible within the Marketplace Seller Dashboard. This can be sent via email or downloaded to PDF. To access the statement, click on the statement icon. This opens the document and will allow you to print, download or send via Email.
A Payment Gateway (Authorize.net, CardConnect, Global Payments) can be added by clicking on the Payment Methods. This gives the Seller the ability to instantly collect on shipments that occur in the Marketplace.
On the Collections Summary page, the Seller can identify a Marketplace Buyer indicated by the Marketplace icon. With the Invoice Due Date set, the terms are applied and tracked based on the value set in the Buyer Accounting Profile.
UI Enhancements
A new Alert is being added to the shipment detail page that will indicate that the shipment is a Marketplace shipment.
On the Shipment Search page, you can now filter by Marketplace shipments
Marketplace Seller Controls
On the Marketplace Buyer List (Seller View), the Seller Controlled status for the Buyer is color-coded for easier visibility.
Requested: Blue
Approved: Green
Declined: Orange
On Hold: Red
The shipment count column indicates how many shipments have been booked by the Buyer in the last 90 days. This is helpful with spotting trends with buyers and can help improve the relationship between Buyer and Seller.
Marketplace Tariff Management
Tariffs can be managed in the Marketplace using familiar controls used when managing tariffs at the LSP Broker level. Add and remove from the Marketplace as needed. Included in the Tariff Management view is the ability to manage the tariff margins that apply to the Marketplace. Simply click on the Margin Amount and adjust as needed. When using this feature along with the Marketplace Activity Report allows the Seller to fine-tune the margins to maximize availability & profitability.

Team Collaboration
The new Team function is a collaboration tool that exists within TMS to assist with the use of Group Email and shared tasks among different operational teams in your organization. You probably have "teams" for Sales, Accounting, Customer Service, Operations, and more and we want you to be able to work effectively within those teams.

How does Team Collaboration Work?
All LSP staff members created in the TMS will now have a Staff Type. They are either an Individual or a Team. A Staff that is labeled as a Team isn't used as a daily login for any one person but instead serves as a group or Team that other Individual staff can subscribe to or belong to. By selecting a Team in your LSP Staff Profile you can both view all assignments that are created for that Team as well as use the Team's Email Address when sending Emails from the TMS. This makes it easy to share work among team members and utilize a shared mailbox like accounting, sales, or customerservice@yourorganization.com.
Click here for a detailed write-up on how the new Teams feature works.
Global Payments Integration

Global Payments is a technology and software company, providing the world's leading complete commerce ecosystem to businesses of every size. This unique, collaboration with Global Payments allows us to offer a Gateway Payment Processing company that offers competitive processing fees that are much lower than others such as Authorize.net or CardConnect.
Parade Integration

Parade's capacity management platform integrates into the Tai TMS to enable leading freight brokerages to expand capacity, scale their team, and book more loads. With Parade, Tai's Truckload Quoting is enhanced by:
Finding the best carriers for every load
Driving carrier re-use through automated carrier profiling
Expanding your broker's capacity reach
Enabling digital bookings with carriers
Get in touch with the Parade team for a free business assessment and demo.
Triumph Business Capital (Factoring) Integration

Triumph Business Capital is a provider of invoice factoring solutions for industries including transportation, oil and gas, manufacturing, staffing, security, wholesalers, distributors, and business service.
Contact Triumph Business Capital to get more information on how to get connected with Tai TMS.
Keep Truckin Integration

The Keep Truckin Smart Load Board delivers the right freight to you! The Keep Truckin Smart Load features:
Smart Matching
Exclusive Access
Note: Vehicle Tracking coming soon!
Truckstop Pay Integration (Certification)

We are thrilled to announce that we have completed certification with Truckstop Pay and the integration is now ready to use!
Truckstop Pay is free to brokers!
Eliminate ACH, check, wire, and advance payment costs.
Make 2% on every quick pay load.
Offer Pay to your carriers for FREE. (Quick pay option charges a small fee.)
FreightWaves Sonar Signals
The Truckload Quote page will show a button that can be used to pull up a modal that will show the capacity strength for the origin and destination. In a future release, we will be providing full integration to the FreightWaves Sonar package.

General Enhancements
Reset Password Function
TMS now has a reset password function. Along with that are improved security requirements for setting a password.
The password should be at least 8 characters
It can be the combination of character, symbols, or numbers
Cannot use the password that starts and ends with a blank space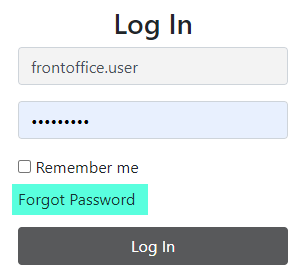 Modify Invoice
Delete Invoice based on Payment Attached to Invoice. With this update, it will allow the deletion of Invoices if a payment does NOT exist on an invoice.